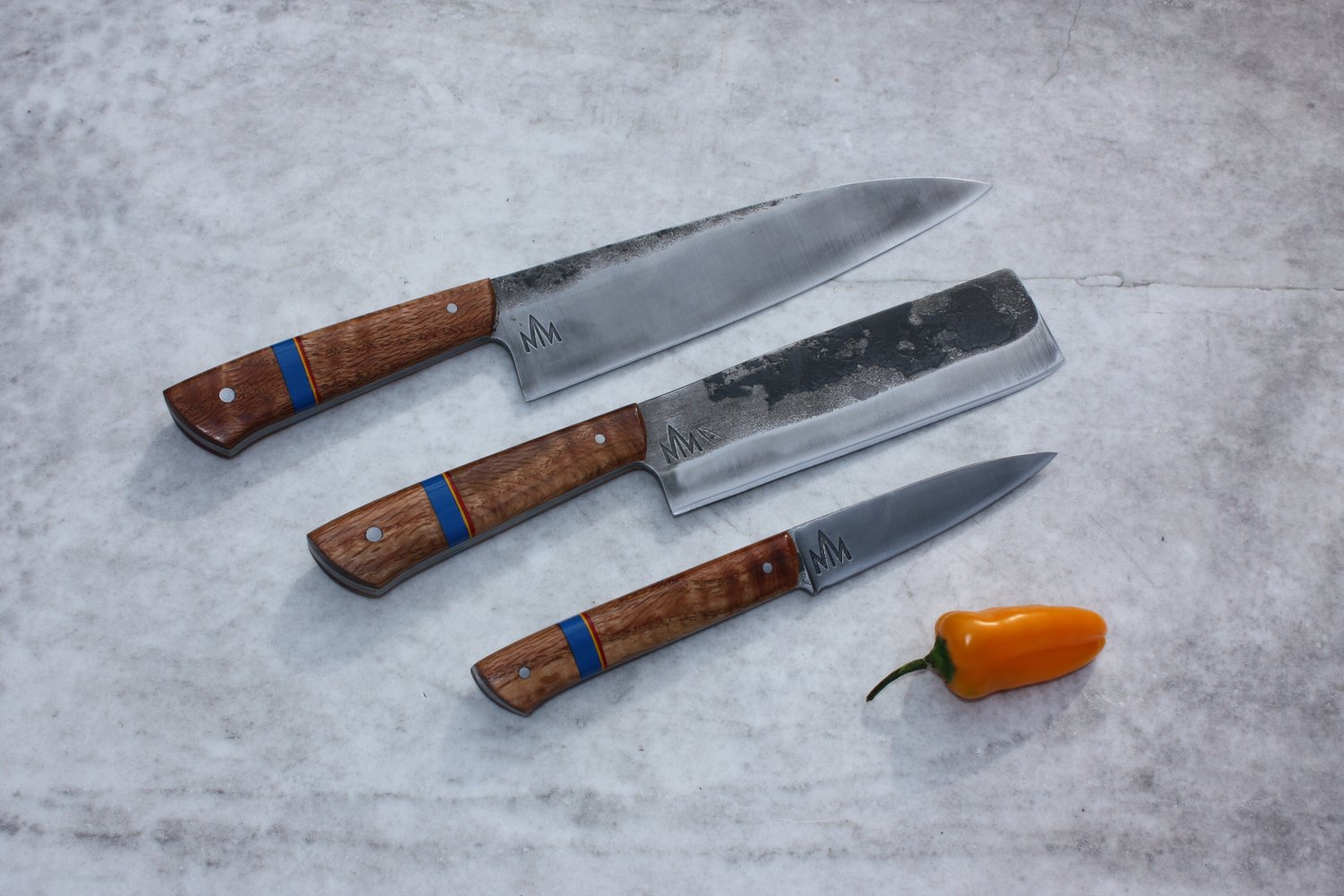 Custom Full Tang Kitchen Set
Here is where you can easily order individual kitchen knives or a set of three. These will be hand forged to order, so no two will be the same. If you have any questions or requests, please reach out via the contact page!
INCLUDED IN SET
• 8 inch gyuto style chefs knife. High flat bevels
• 6 inch nakiri (or usuba, you decide). Right-handed. High flat bevel on the left, convex chisel on the right for food release
• 3.5 inch paring knife with flat bevels
BLADES
• Made from 8670 high carbon steel
• 3/32 inch thick at the handle
• Hardened only on the edge to provide toughness
• Belt finished
HANDLES
• Pictured are the special edition DURM design– made to represent the city of Durham, NC. White Oak with blue, yellow & red detail
• 5/8" at the thickest point
• Available in Black Walnut, Osage Orange, White Oak, Curly Maple and Sycamore
INDICATE YOUR PREFERRED HANDLE MATERIAL IN THE NOTES DURING CHECKOUT
(will not have the Durham colors unless requested). Can make any handle- just ask!
These are forged by hand from high carbon steel. They are tempered to be close to 61 Rockwell (a very hard edge that will need minimal sharpening). Being high carbon steel, they will develop a lovely patina over time. If they aren't kept clean and dry they may develop corrosion that can be easily removed with a Scotch-Brite® pad.
These are available for convenience, but if you would like to customize your handle in any way, I am still happy to accommodate. Just shoot me an email and let's chat.
Available individually.
18 or older to order.
All sales final.
Product will vary slightly due to the handmade nature.